OpenNumismat
Descripció
OpenNumismat és una aplicació còmoda i fiable dirigida als amants de les monedes, numismàtics o aficionats que vulguin crear una col·lecció de numismàtica.
With OpenNumismat, you will be able to organize and manage coin collection: create an advanced catalogue of your coins, wish and selling lists, view statistics for your collection.
Screenshots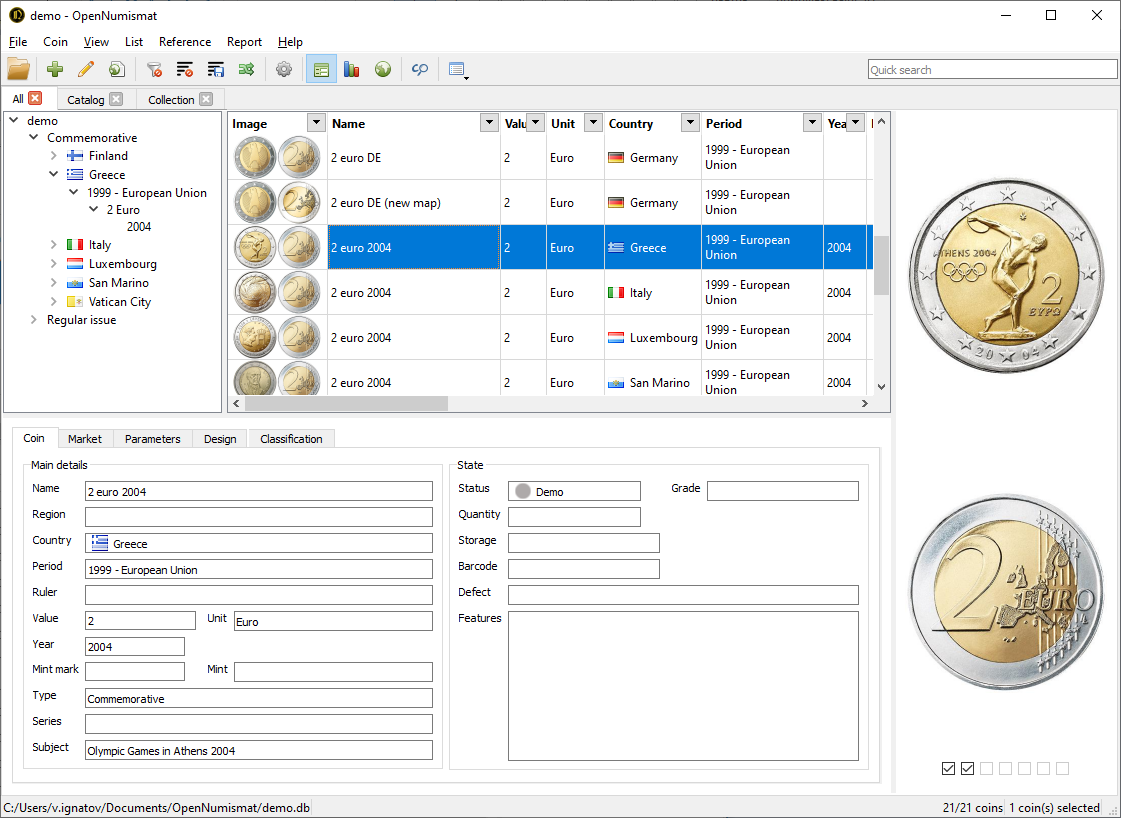 Més captures de pantalla i vídeos
Main features
More than 80 customizable fields to describe the coin:

Característiques
Estat d'una moneda
Detalls d'emissió
Informació de compra, venda, adquisició en subhasta
Preus i números de catàleg
Address and point on the map

Up to 11 photos of a coin (insert image from file, clipboard, download from the Web at URL)
L'agrupament, els filtres i l'ordenació serveixen per a facilitar la recuperació de monedes al catàleg
Generate and print reports, saving as HTML, PDF, MS Word
Exporteu llistes personalitzades en format MS Excel, HTML i CSV
Dupliqueu monedes ràpidament per poder afegir una moneda similar
Editeu un conjunt de monedes
Built-in image editor
Estadístiques
Afegiu i personalitzeu les vostres llistes per a mostrar la informació necessària
No es requereix programari addicional per poder treballar amb la base de dades
Search and import coin, banknote, stamp info from Colnect, an online collectors community
Search and import coin, medal info from ANS collections database
Importeu col·leccions existents des de:

Excel (with images presented as links in source file)
CoinManage (required Microsoft Access Database Engine, Microsoft Access or any other software with ODBC Microsoft Access Driver)
Collection Studio 3.65 (des d'un format d'exportació de taula XML)
uCoin.net
Tellico

Support languages: English, Russian, German, French, Ukrainian, Spanish, Hungarian, Portuguese, Greek, Czech, Italian, Catalan, Dutch, Bulgarian, Latvian, Swedish, Persian
Cross-platform: Windows, Linux, macOS and Android. OpenNumismat Mobile for any browser, including mobile (iPhone, Android)
Suitable for other collectibles, like stamps, banknotes, postcards, badges. And also for organize home inventory
Baixa
The latest version:
OpenNumismat 1.8.15
. Release date:
11 May 2022
Windows
macOS
Linux
Altres
History of changes
What's new in OpenNumismat 1.8.15 (11 May 2022)
Search and import coin info from ANS collections database
Importing from Numista uses API v3
Hide unused details pages
Free format numeric fields settings is enabling entering any values in Year field
Fix converting Japan and Nepal year to Gregorian
Fix export to mobile for HDPI density in x64 version
Improve labels alignment in coin details forms
Add Status icons for select default Status in Settings dialog
What's new in OpenNumismat 1.8.14 (20 April 2022)
Year calculator for Year on coin field (Hebrew, Islamic, Japan, Roman, Nepal, Thai, Burmese, Hijri)
Fix converting empty fineness while importing from Colnect
Cashing images while importing from Colnect
Available enter fractions in Value field (1/24, 1/16, 1/12, 1/10, 1/8, 1/6, 1/5, 1/4, 1/3, 1/2, 2/3, 3/4)
Expanded supported fractions converting in Value field (⅒, ⅛, ⅙, ⅕, ⅔, 7½, 12½)
Free format numeric fields settings is enabling entering any values in Value field
Enable BC settings has a higher priority than Free format numeric fields for Year filed
Fixed processing weight value in Summary dialog
What's new in OpenNumismat 1.8.13 (28 December 2021)
Fixed detecting right and bottom autocrop borders
Autocrop action available from image editor menu
Fixed path for creating default files and folders on first start on Linux and macOS or when deleted
Fixed displaying application name in Windows Task Manager
Removed duplicate sub-menu List->Change view. Available from menu View
Disabled context menu and link clicking on report preview for win64 version
Disabled context menu on map widgets for win64 version
Removed importing from Cabinet
Més antigues...
How can I help?
Feu servir OpenNumismat i recomaneu-ho als vostres amics.
Informeu dels errors que trobeu i proposeu característiques noves per millorar OpenNumismat.
Translate OpenNumismat and documentation to your own language with Transifex (please start with lang.ts file).
Si disposeu dels drets exclusius de catàlegs, fotografies o altre contingut de numismàtica que es pugui incloure a la base de dades de l'aplicació, contacteu amb l'autor.
With any questions and suggestions you can contact the author: opennumismat@gmail.com
Donation
If you want to thank the author - just send a postcard with typical views of your city or country to:
Ignatov Vitaly Ilich
Saint Petersburg, RUSSIA
Novocherkassky, 9, 47
195112
Details
OpenNumismat és: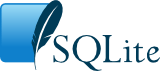 OpenNumismat based on PyQt framework with SQLite database engine to store data collection.
Icons used in UI based on LED Icon Set v1.0, Soft Scraps Icons by deleket and Flag and Silk icons.
Totes les imatges i descripcions de monedes de les col·leccions demo de la pàgina web oficial de la Comissió Europea, la pàgina web del Banc Central de la Federació Russa, la pàgina web de la informació pública de la Casa de la moneda d'Estats Units i Wikipedia.