OpenNumismat
Description
OpenNumismat is a handy and reliable application aimed at coin collectors, numismatists or amateurs looking to create a numismatics collection.
With OpenNumismat, you will be able to organize and manage coin collection: create an advanced catalogue of your coins, wish and selling lists, view statistics for your collection.
Main features
More than 70 customizable fields to describe the coin:

Features
State of a coin
Emission details
Buy, sell, pass on auction information
Prices and catalog numbers

Up to 8 photos of a coin (insert image from file, clipboard, download from the Web at URL)
The grouping, filters and sorting to facilitate the retrieval of coins in the catalog
Generate and print reports, saving as HTML, PDF, MS Word
Export customized lists as MS Excel, HTML and CSV
Duplication of coins to quickly add a similar coin
Batch edit coins
Statistics
Ability to add and customize the lists to display the required data
Does not require additional software to work with a database
Importing existing collections from:

Excel (with images presented as links in source file)
CoinsCollector 2.6
Numizmat 2.1 (required Firebird 2.0)
Cabinet 2.2.2.1 (from a export format)
CoinManage 2011, 2013, 2015 (required Visual FoxPro ODBC Driver, Microsoft Access Database Engine, Microsoft Access or any other software with ODBC Microsoft Access Driver)
Collection Studio 3.65 (from a export format XML Table)
Numizmatik_Ru 1.0.0.82
uCoin.net
Tellico

Support languages: English, Russian, German, French, Ukrainian, Spanish, Hungarian, Portuguese, Greek, Czech, Italian, Catalan, Dutch, Bulgarian, Latvian
Cross-platform: Windows, Linux, MacOS and Android. Online viewer for any browser, including mobile (iPhone, Android)
Suitable for other collectibles, like stamps, banknotes, postcards, badges
Download
The latest version: OpenNumismat 1.7.8. Release date: 29 January 2019
Download OpenNumismat 1.7.8 for Windows
Download OpenNumismat 1.7.8 for Debian/Ubuntu
Download OpenNumismat 1.7.8 for Mac OS X 10.8 and later (without Statistics)
History of changes
What's new in OpenNumismat 1.7.8 (29 January 2019)
Add processing for file:/// links in text fields
Add key navigation on Table (Ctrl+Home, Ctrl+End)
Add Turkish
Add new summary (commission, count images, average per item)
Fixed possible wrong sorting Tree
What's new in OpenNumismat 1.7.7 (06 November 2018)
Fix importing from Excel
New postcard template
Select template from menu
Improve copying images
Updated MacOS icon
Custom templates can be placed in Documents folder
What's new in OpenNumismat 1.7.6 (09 October 2018)
Fix synchronizing
Fix generating wikipedia_2 report
Older...
Screenshots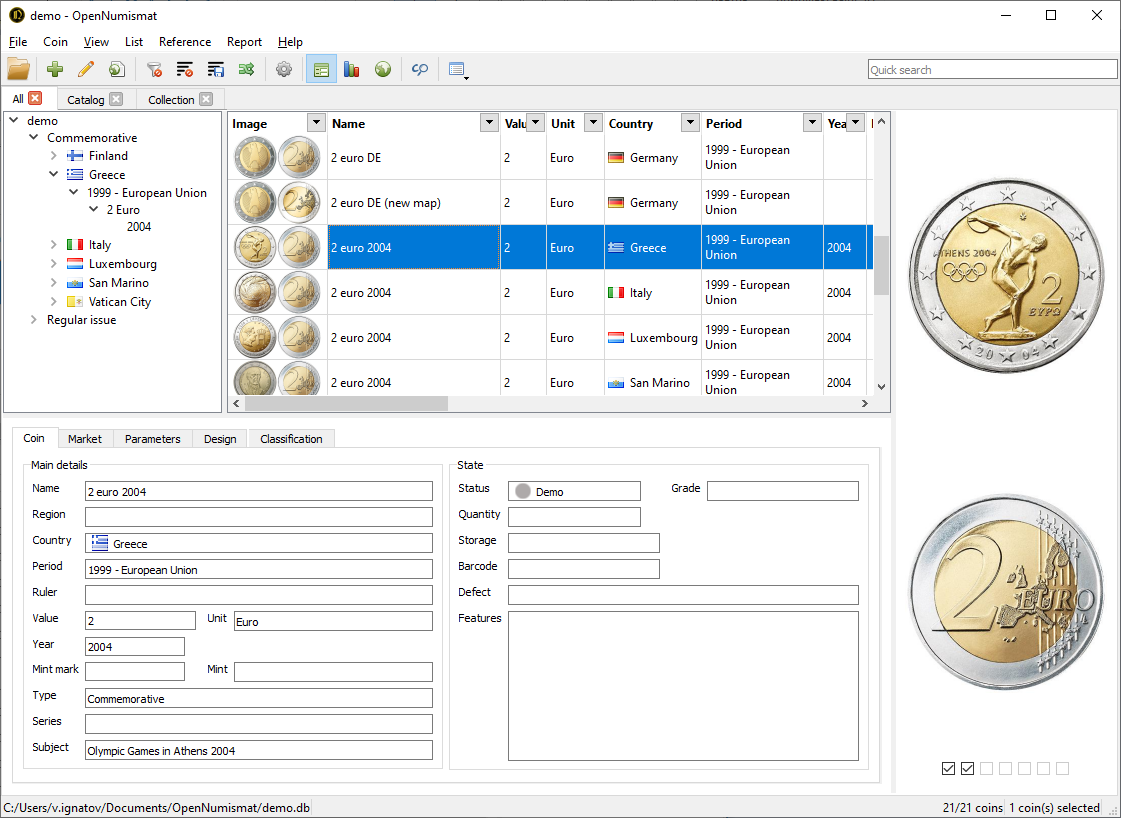 How can I help?
Use OpenNumismat and recommend it to your friends.
Report a founded errors and new features that will make OpenNumismat better.
Translate OpenNumismat and documentation to your own language with Transifex.
If you own the exclusive rights to the catalogues, photographs or other numismatic content that can be included in the application data, please, contact the author.
With any questions and suggestions you can contact the author: opennumismat@gmail.com
Donation
If you want to thank the author - just send a postcard with typical views of your city or country to:

Ignatov Vitaly Ilich
Do vostrebovaniya
Saint Petersburg, RUSSIA
195027

Details
OpenNumismat is a: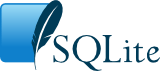 OpenNumismat based on PyQt framework with SQLite database engine to store data collection.
Icons used in UI based on LED Icon Set v1.0, Soft Scraps Icons by deleket and Flag icons.
All images and descriptions of coins in demo collections from the Official website of the European Commission, The Central Bank of the Russian Federation website, United States Mint's public information Website and Wikipedia.