OpenNumismat
Descripció
OpenNumismat és una aplicació còmoda i fiable dirigida als amants de les monedes, numismàtics o aficionats que vulguin crear una col·lecció de numismàtica.
With OpenNumismat, you will be able to organize and manage coin collection: create an advanced catalogue of your coins, wish and selling lists, view statistics for your collection.
Main features
Més de 70 camps que es poden personalitzar fields per descriure la moneda:

Característiques
Estat d'una moneda
Detalls d'emissió
Informació de compra, venda, adquisició en subhasta
Preus i números de catàleg

Fins a 8 fotos de monedes (es poden inserir des d'un fitxer, del porta-retalls o baixar-la des d'un enllaç web)
L'agrupament, els filtres i l'ordenació serveixen per a facilitar la recuperació de monedes al catàleg
Generate and print reports, saving as HTML, PDF, MS Word
Exporteu llistes personalitzades en format MS Excel, HTML i CSV
Dupliqueu monedes ràpidament per poder afegir una moneda similar
Editeu un conjunt de monedes
Estadístiques
Afegiu i personalitzeu les vostres llistes per a mostrar la informació necessària
No es requereix programari addicional per poder treballar amb la base de dades
Import coin, banknote, stamp info from Colnect, an online collectors community
Importeu col·leccions existents des de:

Excel (with images presented as links in source file)
Cabinet 2.2.2.1 (des d'un format d'exportació)
CoinManage 2011, 2013, 2015 (es requereix Visual FoxPro ODBC Driver, Microsoft Access Database Engine, Microsoft Access o qualsevol altre programari amb ODBC Microsoft Access Driver)
Collection Studio 3.65 (des d'un format d'exportació de taula XML)
uCoin.net
Tellico

Support languages: English, Russian, German, French, Ukrainian, Spanish, Hungarian, Portuguese, Greek, Czech, Italian, Catalan, Dutch, Bulgarian, Latvian, Swedish, Persian
Cross-platform: Windows, Linux, MacOS and Android. Online viewer for any browser, including mobile (iPhone, Android)
Suitable for other collectibles, like stamps, banknotes, postcards, badges
Baixa
The latest version: OpenNumismat 1.8.5. Release date: 16 March 2020
Download OpenNumismat 1.8.5 for Windows
Download portable OpenNumismat 1.8.5 for Windows
Download OpenNumismat 1.8.5 for Debian/Ubuntu
Download OpenNumismat 1.8.5 for Mac OS X 10.8 and later (without Statistics)
History of changes
What's new in OpenNumismat 1.8.5 (16 March 2020)
Make a portable version for Windows
Fix removing entries after moving position
Field settings like a tree
Fix saving table as CSV
Fix Ctrl+Home, Ctrl+End navigation
What's new in OpenNumismat 1.8.4 (11 February 2020)
Improve processing Colnect errors
Improve performance for inserting images
Improve switching views menu
What's new in OpenNumismat 1.8.3 (21 October 2019)
Importing from Colnect works through a proxy server (old version will be disabled)
Import from Colnect CSV export lists (thanks to fftmp)
Fix sorting Tree
Show tooltip in Tree when label truncated
What's new in OpenNumismat 1.8.2 (28 May 2019)
Fix problem with icon/card views on Linux and Mac OS X
Fix images at bottom
Fix sorting when missed Status value
Més antigues...
Screenshots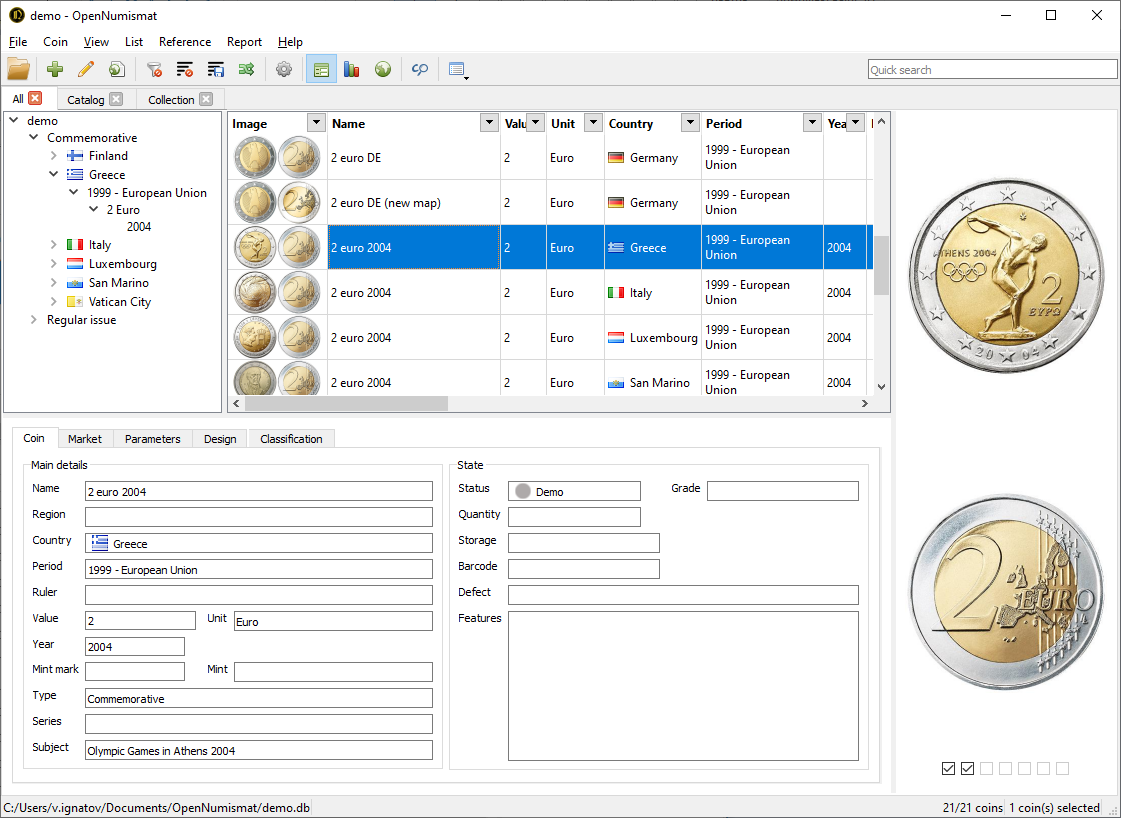 Més captures de pantalla i vídeos
How can I help?
Feu servir OpenNumismat i recomaneu-ho als vostres amics.
Informeu dels errors que trobeu i proposeu característiques noves per millorar OpenNumismat.
Translate OpenNumismat and documentation to your own language with Transifex.
Si disposeu dels drets exclusius de catàlegs, fotografies o altre contingut de numismàtica que es pugui incloure a la base de dades de l'aplicació, contacteu amb l'autor.
With any questions and suggestions you can contact the author: opennumismat@gmail.com
Donation
If you want to thank the author - just send a postcard with typical views of your city or country to:
Ignatov Vitaly Ilich
Saint Petersburg, RUSSIA
Novocherkassky, 9, 47
195112
Details
OpenNumismat és: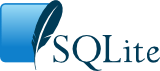 OpenNumismat based on PyQt framework with SQLite database engine to store data collection.
Icons used in UI based on LED Icon Set v1.0, Soft Scraps Icons by deleket and Flag and Silk icons.
Totes les imatges i descripcions de monedes de les col·leccions demo de la pàgina web oficial de la Comissió Europea, la pàgina web del Banc Central de la Federació Russa, la pàgina web de la informació pública de la Casa de la moneda d'Estats Units i Wikipedia.