OpenNumismat
Description
OpenNumismat це зручний та надійний додаток, призначений для колекціонерів монет та нумізматів, для створення нумізматичної колекції.
With OpenNumismat, you will be able to organize and manage coin collection: create an advanced catalogue of your coins, wish and selling lists, view statistics for your collection.
Main features
Більше 70 полів, що можна налаштувати, для опису монет:

Характеристики
Стан монети
Деталі випуску
Данні про купівлю, продаж, прохід на аукціонах
Ціни та каталожні номери

До 8 фотографій монети (вставка зображень з файлу, буферу обміну, з Web по URL)
Групування, фільтри та сортуваннядля полегшення пошуку монет в каталозі
Генерація та друк звітів, збереження у форматах HTML, PDF, MS Word
Експорт налаштованих списків у форматах MS Excel, HTML и CSV
Дублювання монет для швидкого додавання подібної монети
Групове редагування монет
Статистика
Можливість додавання та налаштування списків для відображення необхідних даних
Не потребує встановлення додаткових програм для роботи з базою данних
Імпорт існуючих колекцій із

Excel (with images presented as links in source file)
CoinsCollector 2.6
Numizmat 2.1 (необхідно Firebird 2.0)
Cabinet 2.2.2.1 (з експортного формату)
CoinManage 2011, 2013, 2015 (необхідно Visual FoxPro ODBC Driver, Microsoft Access Database Engine, Microsoft Access або будь-який інший додаток з ODBC Microsoft Access Driver)
Collection Studio 3.65 (з експортного формату XML Table)
Numizmatik_Ru 1.0.0.82
uCoin.net
Tellico

Support languages: English, Russian, German, French, Ukrainian, Spanish, Hungarian, Portuguese, Greek, Czech, Italian, Catalan, Dutch, Bulgarian, Latvian
Cross-platform: Windows, Linux, MacOS and Android. Online viewer for any browser, including mobile (iPhone, Android)
Suitable for other collectibles, like stamps, banknotes, postcards, badges
Download
The latest version: OpenNumismat 1.7.3. Release date: 16 May 2018
Download OpenNumismat 1.7.3 for Windows
Download OpenNumismat 1.7.3 for Debian/Ubuntu
Download OpenNumismat 1.7.3 for Mac OS X 10.8 and later (without Statistics)
History of changes
What's new in OpenNumismat 1.7.3 (16 May 2018)
Fix page navigation in Edit dialog
What's new in OpenNumismat 1.7.2 (04 May 2018)
Add GeoChart
Disabling statuses in settings
New coin status: Missing
Added Latvian
Fix export to Excel on MacOS
Fix processing wrong password
Minor improvements and optimisations
What's new in OpenNumismat 1.7.1 (06 March 2018)
Clickable links in text fields
Colored Status icons
Autobackup
Fix scrolling after editing
BLAF colors for Statistics charts (30 color palette)
Improve detaching reference
Fix backup reference
What's new in OpenNumismat 1.7.0 (19 February 2018)
New fields: Engravers, Colors, Format, Condition, Variety image and description (disabled by default)
Added quick search
Settings for change image height in Table of coins
Settings for showing Image panel at bottom
Settings for default count of images in panel
Refactored Settings dialog. Some settings moved to collection (please, check your settings)
Store Statistics multicolor settings
Enable editing cross reference when not selected main field
Speedup saving records
Fix filter menu without coins
Раніше...
Знімки екранів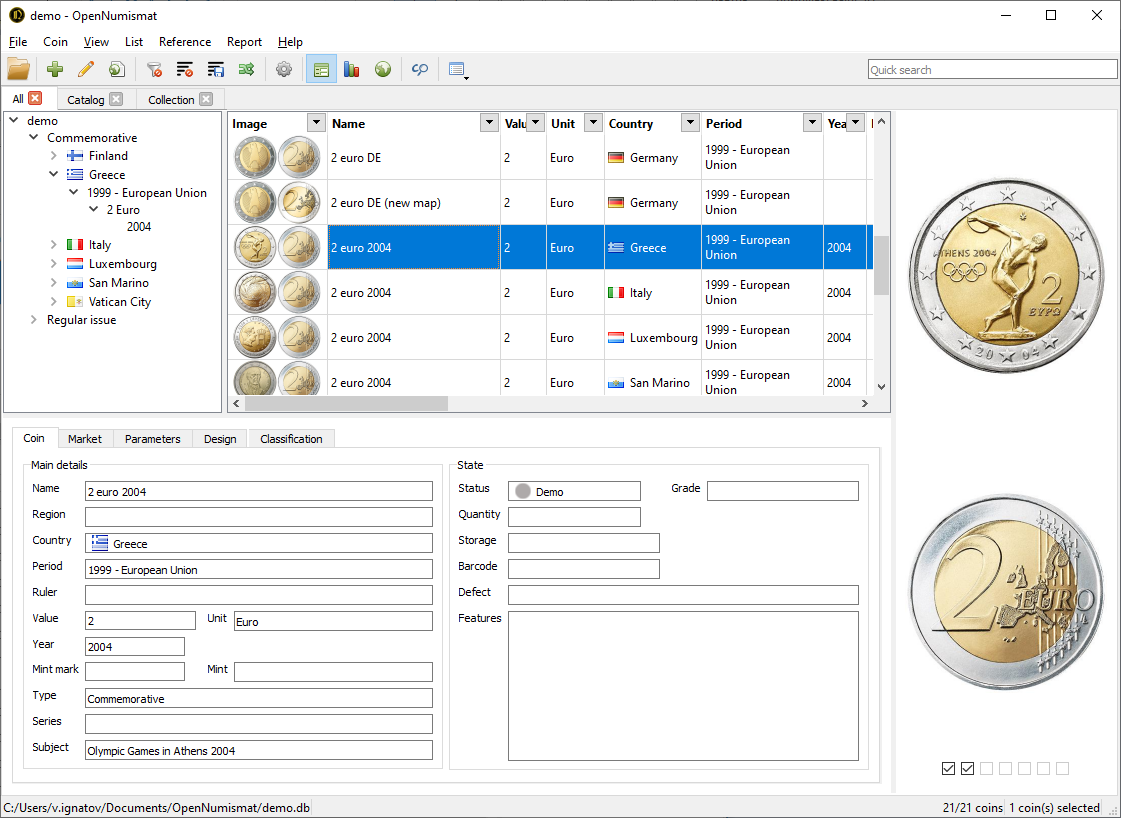 How can I help?
Використовуйте OpenNumismat та рекомендуйте його своїм знайомим.
Повідомляйте про помилкита нові функції, зо допоможуть покращити OpenNumismat.
Translate OpenNumismat and documentation to your own language with Transifex.
Якщо Ви володієте виключними правами на каталоги, фотографії або інші нумізматичні матеріали, що можуть бути включені в дані програми, зв'яжіться, будь-ласка, з автором.
With any questions and suggestions you can contact the author: opennumismat@gmail.com
Donation
If you want to thank the author - just send a postcard with typical views of your city or country to:
Ignatov Vitaly Ilich
Do vostrebovaniya
Saint Petersburg, RUSSIA
195027
Details
OpenNumismat це: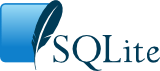 OpenNumismat based on PyQt framework with SQLite database engine to store data collection.
Icons used in UI based on LED Icon Set v1.0, Soft Scraps Icons by deleket and Flag icons.
Всі зображення та опис монет в демо-колекціях з офіційного сайту Європейської Комісії, сайту Центрального банку Російської Федерації, Інформаційного сайту монетного двору США та Вікіпедії.