OpenNumismat
Beskrivning
OpenNumismat är en praktisk och pålitlig applikation som syftar till myntsamlare, numismatiker eller amatörer som vill skapa en numismatiksamling.
Med OpenNumismat kan du organisera och hantera din myntinsamling: skapa en avancerad katalog över dina mynt, önskemål och säljlistor,och se statistik för din samling.
Funktioner
More than 80 customizable fields to describe the coin:

Funktioner
Myntstaten
Utgivnings detaljer
Köp, sälj, vidarebefordra auktionsinformation
Priser och katalog nummer
Address and point on the map

Up to 11 photos of a coin (insert image from file, clipboard, download from the Web at URL)
Gruppering, filtrering och sortering för att underlätta hämtningen av mynt i katalogen
Generera och skriva ut rapporter, spara som HTML, PDF, MS Word
Exportera anpassade listor som MS Excel, HTML och CSV
Dubbelkopiering av mynt för att snabbt lägga till ett liknande mynt
Batch redigera mynt
Built-in image editor
Statistik
Möjlighet att lägga till och anpassa listorna för att visa nödvändiga data
Behöver inte ytterligare programvara för att arbeta med en databas
Importera mynt, sedlar, Frimärks linfo från Colnect, en samlings comunity på nätet
Importera befintliga samlingar från:

Excel (med bilder som presenteras som länkar i källfilen)
CoinManage (required Microsoft Access Database Engine, Microsoft Access or any other software with ODBC Microsoft Access Driver)
Collection Studio 3.65 (från ett XML-tabell för exportformat)
uCoin.net
Tellico

Support språk: engelska, ryska, tyska, franska, ukrainska, spanska, ungerska, portugisiska, grekiska, tjeckiska, italienska, katalanska, holländska, bulgariska, lettiska, svenska, persiska
Cross-platform: Windows, Linux, macOS and Android. OpenNumismat Mobile for any browser, including mobile (iPhone, Android)
Suitable for other collectibles, like stamps, banknotes, postcards, badges. And also for organize home inventory
Ladda ner
The latest version:
OpenNumismat 1.8.13
. Release date:
28 December 2021
Windows
macOS
Linux
Andra
Ändrings historia
What's new in OpenNumismat 1.8.13 (28 December 2021)
Fixed detecting right and bottom autocrop borders
Autocrop action available from image editor menu
Fixed path for creating default files and folders on first start on Linux and macOS or when deleted
Fixed displaying application name in Windows Task Manager
Removed duplicate sub-menu List->Change view. Available from menu View
Disabled context menu and link clicking on report preview for win64 version
Disabled context menu on map widgets for win64 version
Removed importing from Cabinet
What's new in OpenNumismat 1.8.12 (15 December 2021)
New map types: Mapbox (available only for win64 version) and Roman Empire (DARE)
Undo/redo works for pasted image in image editor
Autocrop tool for removing borders in image editor
Import coin thickness and fineness from Colnect
Import philatelic products from Colnect
Import stamp color from Colnect
New templates: holders, Commemoratives_ByCountry, Commemoratives_ByYear
Buttons Today and Clean on calendar widget
Summary dialog show silver and gold coins count and metal weight
Localized show of prices in Summary dialog
Importing from Numista uses new API. Disabled checking SSL certificate
Unrecognized formatted dates are ignored when importing from Excel
Added View menu
Prevent hiding toolbar by right-click menu
Updated importing from CoinManage
Export data to JSON format
Updated default references
Fixed display of the application icon in Ubuntu
Updated third-party libraries, compatible with newest Python 3.10
What's new in OpenNumismat 1.8.11 (12 October 2021)
Checking SSL certificate for image downloading always disabled
Save current sort order as default order from toolbar. Removed Store column sorting settings
Summary dialog show info also for all shows (filtered) coins
Report is generated for all shows (filtered) coins
Icons from reference always shown
Improve image cropping with perspective transformation
Undo/redo for actions in image editor
Improve image viewer zooming
Improve image context menu
Settings for font size
Improve postcard template
Fix importing from Telico
Äldre...
Skärmdumpar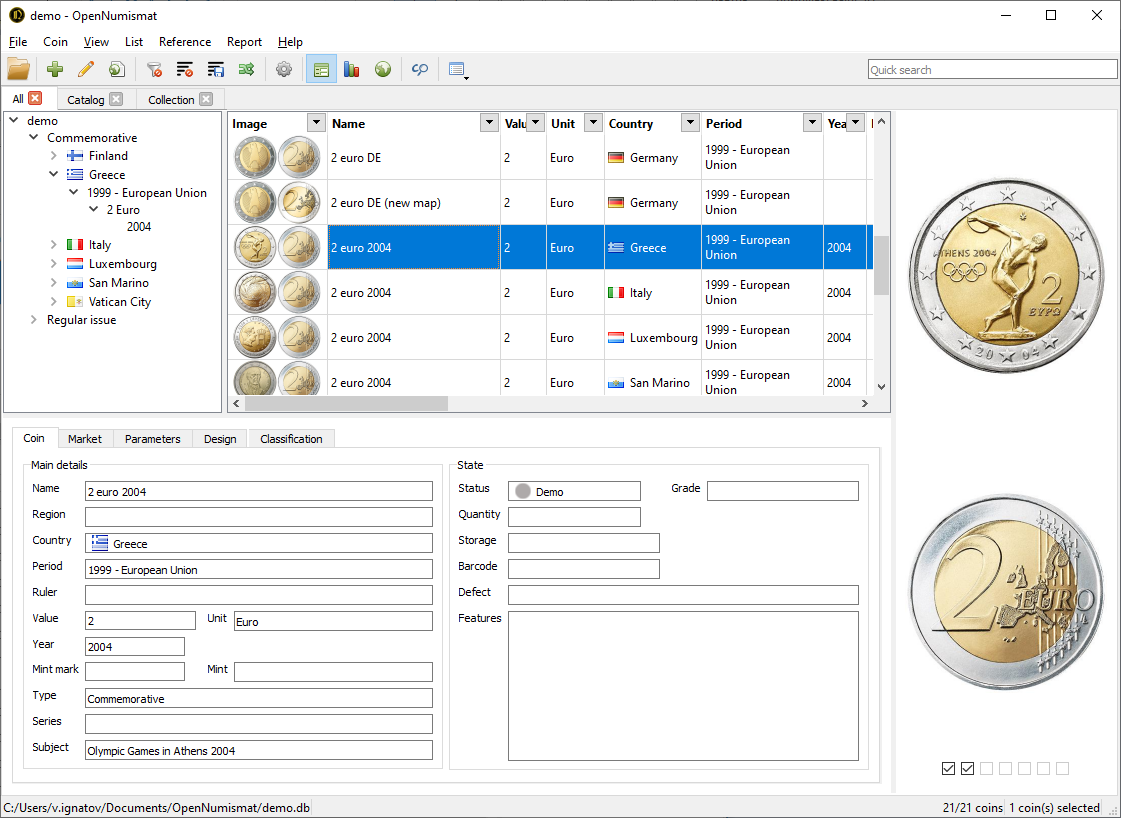 Hur kan jag hjälpa till?
Använd OpenNumismat och rekommendera det till dina vänner.
Rapportera en hittade fel och nya funktioner som gör OpenNumismat bättre.
Translate OpenNumismat and documentation to your own language with Transifex (please start with lang.ts file).
Om du äger exklusiva rättigheter till katalogerna, fotografier eller annat numismatiskt innehåll som kan ingå i ansökningsuppgifterna, vänligen kontakta författaren.
Har du några frågor och förslag kan du kontakta utgivaren: opennumismat@gmail.com
Donation
Om du vill tacka tillverkaren - skicka bara ett vykort med typisk utsikt över din stad eller land till:
Ignatov Vitaly Ilich
Saint Petersburg, RUSSIA
Novocherkassky, 9, 47
195112
Detaljer
OpenNumismat är en: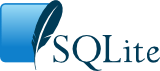 OpenNumismat baserat på PyQt-ramverket med SQLite-databasmotor för att lagra datainsamling.
koner som används i användargränssnitt baserat på LED Ikon Set in v1.0, Mjuka Skrap-ikoner med Deleket och Flag and Silk-ikoner.
Alla bilder och beskrivningar av mynt i demo samlingar från Europeiska kommissionens officiella webbplats, Centralbanken på Ryska federationens webbplats, United States Mints offentliga information Webbplats och Wikipedia.