OpenNumismat
Description
OpenNumismat to wygodna i pomocna aplikacja skierowana do miłośników monet, numizmatyków oraz amatorów poszukujących możliwości zarządzania swoją kolekcją
With OpenNumismat, you will be able to organize and manage coin collection: create an advanced catalogue of your coins, wish and selling lists, view statistics for your collection.
Main features
More than 60 customizable fields to describe the coin:

Cechy
Stan monety
Informacje o emisji
Informacje o kupnie, sprzedaży, wymianie
Ceny i numery katalogowe

Up to 7 photos of a coin (insert image from file, clipboard, download from the Web at URL)
Grupowanie, filtrowanie i sortowanie monet w katalogu
Generate and print reports, saving as HTML, PDF, MS Word
Eksportowanie list do MS Excel, HTML oraz CSV
Powielaj monety żeby szybko dodać podobne
Batch edit coins
Statistics
Ability to add and customize the lists to display the required data
Nie wymaga dodatkowego oprogramowania do pracy z bazą danych
Importowanie istniejących kolekcji z:

Excel (with images presented as links in source file)
CoinsCollector 2.6
Numizmat 2.1 (wymaga Firebird 2.0)
Cabinet 2.2.2.1 (z pliku eksportu)
CoinManage 2011, 2013, 2015 (wymaga Visual FoxPro ODBC Driver, Microsoft Access Database Engine, Microsoft Access lub innego oprogramowania z ODBC Microsoft Access Driver)
Collection Studio 3.65 (z pliku eksportu w formacie tabeli XML)
Numizmatik_Ru 1.0.0.82
uCoin.net
Tellico

Support languages: English, Russian, German, French, Ukrainian, Spanish, Hungarian, Portuguese, Greek, Czech, Catalan, Dutch, Bulgarian
Wieloplatformowość: Windows, Linux, MacOS and Android.
Download
The latest version: OpenNumismat 1.6.7. Release date: 15 January 2018
Download OpenNumismat 1.6.7 for Windows
Download OpenNumismat 1.6.7 for Debian/Ubuntu
Download OpenNumismat 1.5.3 for Mac OS X 10.8 and later (latest version not yet ready for Mac OS X)
History of changes
What's new in OpenNumismat 1.6.7 (15 January 2018)
Import from Excel
Import from uCoin.net Microsoft Excel (XLS) format
Improve Tree navigation for empty Value field
Improve storing main window state
What's new in OpenNumismat 1.6.6 (09 January 2018)
Fix sorting denomination in Tree
Fix filling reference from collection
Fix Summary dialog
Improve storing main window size
Improve importing from uCoin.net
What's new in OpenNumismat 1.6.5 (25 December 2017)
Improve sorting for alphabets with extra latin or cyrillic characters
Added new report templates
Market tab always enabled
Fix error msvcr100.dll missing
Fix Summary dialog
Fix license encoding
Fix importing from uCoin.net for Italian
Improve storing Report preview dialog size
Starsze...
Screenshots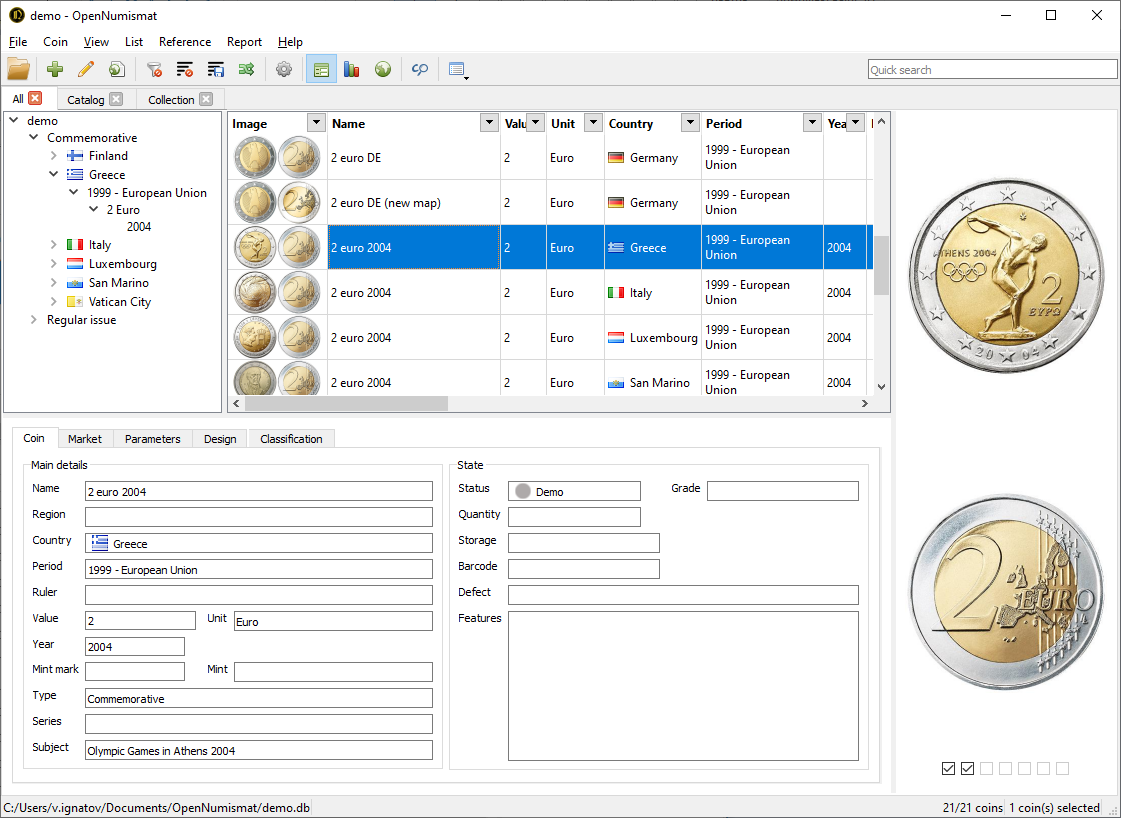 How can I help?
Używaj OpenNumismat i polecaj go swoim znajomym.
Report a founded errors and new features that will make OpenNumismat better.
Translate OpenNumismat and documentation to your own language with Transifex.
If you own the exclusive rights to the catalogues, photographs or other numismatic content that can be included in the application data, please, contact the author.
With any questions and suggestions you can contact the author: opennumismat@gmail.com
Details
OpenNumismat to: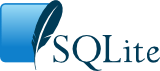 OpenNumismat based on PyQt framework with SQLite database engine to store data collection.
Icons used in UI based on LED Icon Set v1.0, Soft Scraps Icons by deleket and Flag icons.
Wszystkie obrazki o opisy monet w katalogach demo pochodzą z oficjalnej strony internetowej Komisji Europeskiej, Strony internetowej Banku Centralnego Federacji Rosyjskiej, Strony internetowej Mennicy Amerykańkiej oraz Wikipedii.