OpenNumismat
Description
OpenNumismat is a handy and reliable application aimed at coin lovers, numismatists or amateurs looking to create a numismatics collection.
With OpenNumismat, you will be able to create, organize and manage your own coin catalogue with detailed description and photos for each of the items.
Main features
More than 60 customizable fields to describe the coin:

Features
State of a coin
Emission details
Buy, sell, pass on auction information
Prices and catalog numbers

Up to 7 photos coins (insert image from file, clipboard, download from the Web at URL)
The grouping, filters and sorting to facilitate the retrieval of coins in the catalog
Generate and print reports, saving as HTML, PDF, MS Word
Export customized lists as MS Excel, HTML and CSV
Duplication of coins to quickly add a similar coin
Batch edit coins
Ability to add and customize the lists to display the required data
Does not require additional software to work with a database
Importing existing collections from:

CoinsCollector 2.6
Numizmat 2.1 (required Firebird 2.0)
Cabinet 2.2.2.1 (from a export format)
CoinManage 2011, 2013, 2015 (required Visual FoxPro ODBC Driver, Microsoft Access Database Engine, Microsoft Access or any other software with ODBC Microsoft Access Driver)
Collection Studio 3.65 (from a export format XML Table)
Numizmatik_Ru 1.0.0.82
uCoin.net

Support languages: English, Russian, German, French, Ukranian, Spanish, Hungarian, Portuguese, Greek, Czech
Cross-platform: Windows, Linux, MacOS and Android.
Download
The latest version: OpenNumismat 1.5.3. Release date: 19 February 2016
Download OpenNumismat 1.5.3 for Windows
Download OpenNumismat 1.5.3 for Debian/Ubuntu
Download OpenNumismat 1.4.9 for Mac OS X 10.6 and later (version 1.5 not yet ready for Mac OS X)
History of changes
What's new in OpenNumismat 1.5.3 (19 February 2016)
Fix loosing cursor when inserting records
Add coins from another collection
Fix filtering with Status column
Add Rename field button into Settings
Fix float numeric fields for some Romance languages
Improve setting values for Mintage field
Fix pasting image from web
Fix clearing Date fields
Added French translations (by Mathieu Martineau, Jean-Claude Kursner)
Added option for compressing images on export to mobile
Update Clear filters icon
What's new in OpenNumismat 1.5.2 (06 February 2015)
Fixed crash with Polish language
Fixed storing maximised window state
What's new in OpenNumismat 1.5.1 (02 February 2015)
Fixed crash with saving sort order
Added import from uCoin.net
Fix import from CoinManage
Added filter for empty values in Tree
Improve Tree customization dialog
Fix navigation with Tree on large denomination (> 1000)
Fix date and edge fields
Speed-up coin deletion
I18n
Older...
Screenshots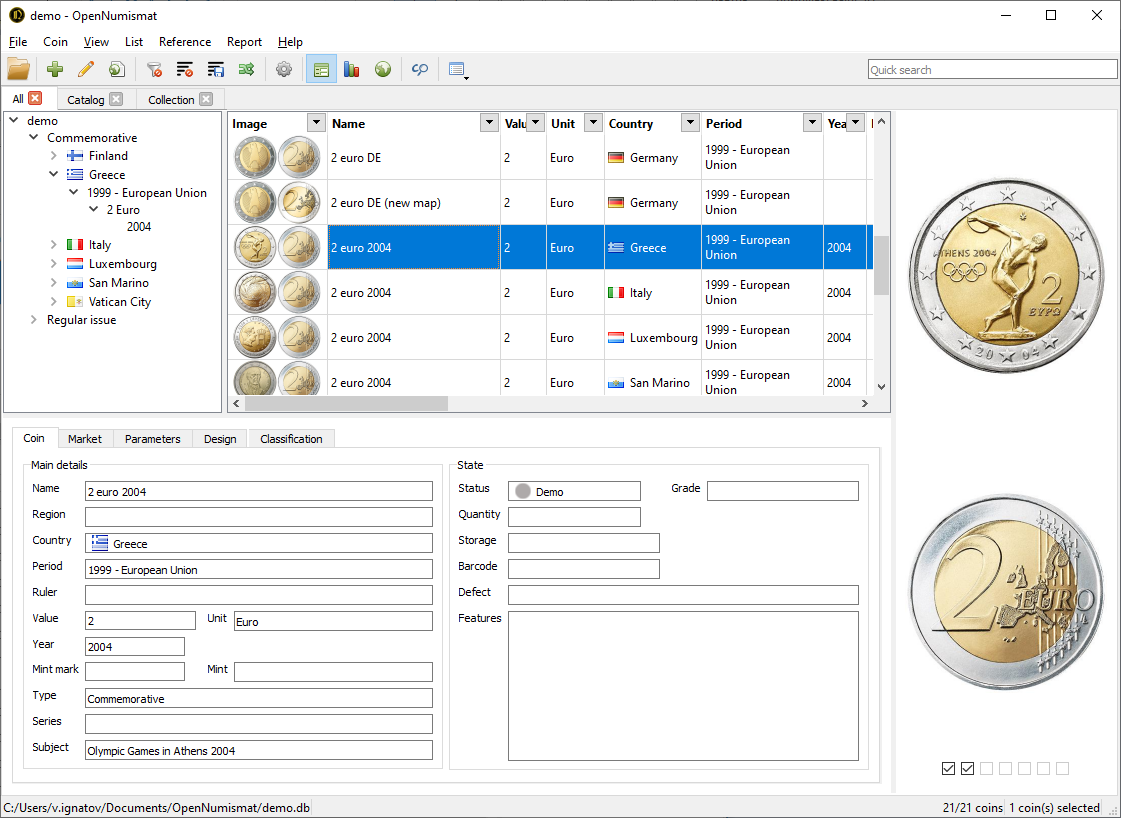 How can I help?
Use OpenNumismat and recommend it to your friends.
Report a founded errors and new features that will make OpenNumismat better.
Translate OpenNumismat and documentation to your own language with Transifex.
If you own the exclusive rights to the catalogues, photographs or other numismatic content that can be included in the application data, please, contact the author.
Details
OpenNumismat is a: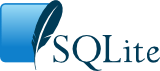 OpenNumismat based on PyQt framework with SQLite database engine to store data collection.
Icons used in UI based on LED Icon Set v1.0 and Soft Scraps Icons by deleket.
All images and descriptions of coins in demo collections from the Official website of the European Commission, The Central Bank of the Russian Federation website, United States Mint's public information Website and Wikipedia.