OpenNumismat
Beschreibung
OpenNumismat ist ein handliches und zuverlässiges Programm für Münzliebhaber - erfahrene Numismatiker oder Neueinsteiger - die das Ziel haben, ihre Sammlung zu dokumentieren.
OpenNumismat versetzt Sie in die Lage, ihren eigenen Münzkatalog herzustellen, die Einträge zu organisieren und zu verwalten und jeden Eintrag mit einer detaillierten Beschreibung und Fotos zu versehen.
Programmeigenschaften
Zur Beschreibung der Münzen stehen über 60 anpassbare Felder zur Verfügung:

Eigenschaften der Münze
Zustand und Beschaffenheit der Münze
Ausgabedetails
Daten über Kauf, Verkauf, usw.
Preise und Katalognummern

Bis zu 7 Abbildungen pro Eintrag(Eingabe ist möglich über Datei, Zwischenablage oder durch Herunterladen aus dem Internet über die Internetadresse).
Übersichtliches Suchen und Finden von Münzen im Katalog durch die Möglichkeit zu gruppieren, filtern und sortieren.
Herstellen und Ausdrucken von Berichten, die als HTML, PDF oder im MS-Word-Dateien gespeichert werden können.
Export benutzerdefinierter Listen in Form von MS Excel-, HTML- oder CSV-Dateien.
Duplizierung von Münzen, um schnell ähnliche Münzen einzugeben.
Bearbeiten von Münzen im Stapelverfahren.
Möglichkeit, benutzerdefinierte Listen zu konfigurieren und zu speichern, um die gewünschten Daten anzuzeigen.
Für die Arbeit mit der Datenbank wird keine zusätzliche Software benötigt.
Import vorhandener Sammlungen aus:

CoinsCollector 2.6
Numizmat 2.1 (required Firebird 2.0)
Cabinet 2.2.2.1 (from a export format)
CoinManage 2011, 2013, 2015 (required Visual FoxPro ODBC Driver, Microsoft Access Database Engine, Microsoft Access or any other software with ODBC Microsoft Access Driver)
Collection Studio 3.65 (from a export format XML Table)
Numizmatik_Ru 1.0.0.82
uCoin.net

Support languages: English, Russian, German, French, Ukranian, Spanish, Hungarian, Portuguese, Greek, Czech
Cross-platform: Windows, Linux, MacOS and Android.
Download
The latest version: OpenNumismat 1.5.3. Release date: 19 February 2016
Download OpenNumismat 1.5.3 for Windows
Download OpenNumismat 1.5.3 for Debian/Ubuntu
Download OpenNumismat 1.4.9 for Mac OS X 10.6 and later (version 1.5 not yet ready for Mac OS X)
History of changes
What's new in OpenNumismat 1.5.3 (19 February 2016)
Fix loosing cursor when inserting records
Add coins from another collection
Fix filtering with Status column
Add Rename field button into Settings
Fix float numeric fields for some Romance languages
Improve setting values for Mintage field
Fix pasting image from web
Fix clearing Date fields
Added French translations (by Mathieu Martineau, Jean-Claude Kursner)
Added option for compressing images on export to mobile
Update Clear filters icon
What's new in OpenNumismat 1.5.2 (06 February 2015)
Fixed crash with Polish language
Fixed storing maximised window state
What's new in OpenNumismat 1.5.1 (02 February 2015)
Fixed crash with saving sort order
Added import from uCoin.net
Fix import from CoinManage
Added filter for empty values in Tree
Improve Tree customization dialog
Fix navigation with Tree on large denomination (> 1000)
Fix date and edge fields
Speed-up coin deletion
I18n
Older...
Screenshots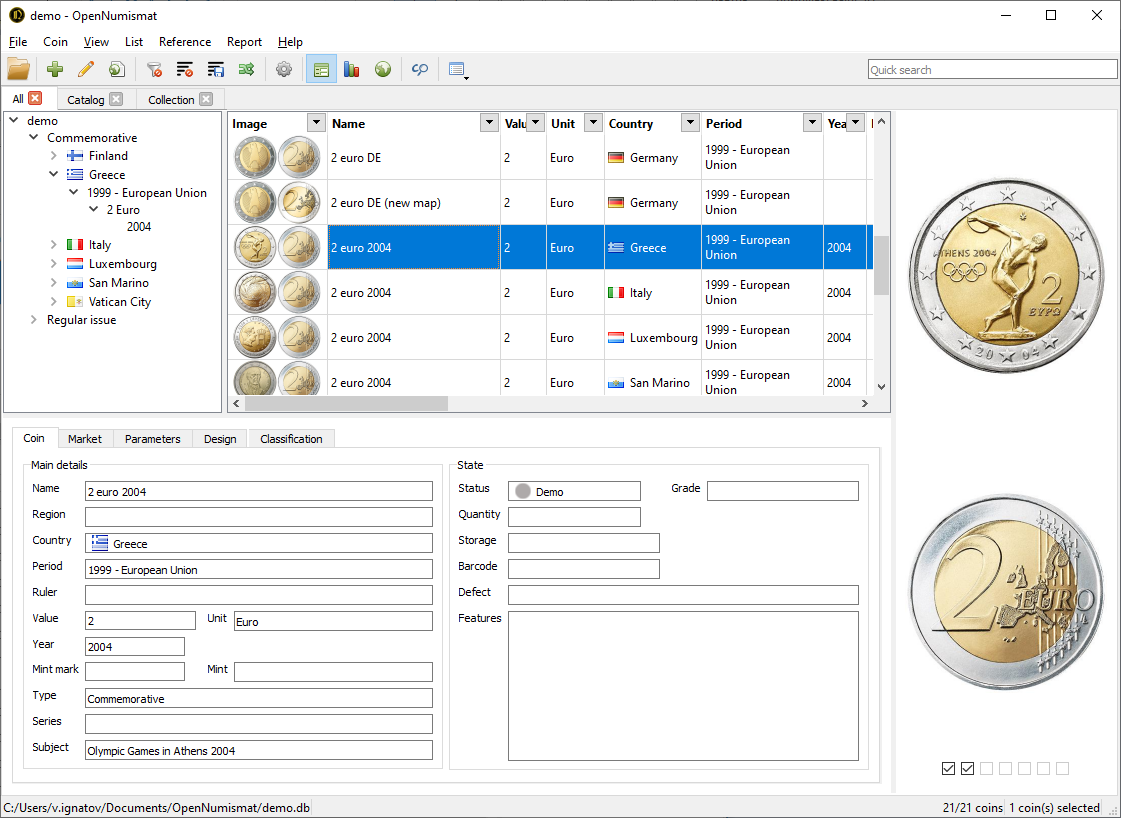 Weitere screenshots und Videos
Wie kann ich helfen?
Benutzen Sie OpenNumismat und empfehlen Sie es weiter.
Bitte melden Sie Fehler und neue Funktionen, die OpenNumismat verbessern.
Übersetzen Sie OpenNumismat und die Dokumentation in Ihre Sprache Transifex.
Wenn Sie über Exklusivrechte von Katalogen, Abbildungen oder anderen numismatischen Inhalten verfügen, die in das Programm aufgenommen werden können, wenden Sie sich bitte an den Autor.
Details
OpenNumismat ist: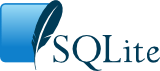 OpenNumismat basiert auf PyQt framework mit SQLite database engine zur Speicherung der Sammlung.
Die verwendeten Icons basieren auf LED Icon Set v1.0 und Soft Scraps Icons von deleket.
Alle Abbildungen und Beschreibungen von Münzen in der Demo-Sammlung entstammen folgenden Seiten: Official website of the European Commission, The Central Bank of the Russian Federation website, United States Mint's public information Website und Wikipedia.