OpenNumismat
Description
OpenNumismat ist ein handliches und zuverlässiges Programm für Münzliebhaber - erfahrene Numismatiker oder Neueinsteiger - die das Ziel haben, ihre Sammlung zu dokumentieren.
With OpenNumismat, you will be able to organize and manage coin collection: create an advanced catalogue of your coins, wish and selling lists, view statistics for your collection.
Main features
Zur Beschreibung der Münzen stehen über 70 anpassbare Felder zur Verfügung:

Eigenschaften der Münze
Zustand und Beschaffenheit der Münze
Ausgabedetails
Daten über Kauf, Verkauf, usw.
Preise und Katalognummern

Bis zu 8 Abbildungen pro Eintrag(Eingabe ist möglich über Datei, Zwischenablage oder durch Herunterladen aus dem Internet über die Internetadresse).
Übersichtliches Suchen und Finden von Münzen im Katalog durch die Möglichkeit zu gruppieren, filtern und sortieren.
Herstellen und Ausdrucken von Berichten, die als HTML, PDF oder im MS-Word-Dateien gespeichert werden können.
Export benutzerdefinierter Listen in Form von MS Excel-, HTML- oder CSV-Dateien.
Duplizierung von Münzen, um schnell ähnliche Münzen einzugeben.
Bearbeiten von Münzen im Stapelverfahren.
Statistics
Möglichkeit, benutzerdefinierte Listen zu konfigurieren und zu speichern, um die gewünschten Daten anzuzeigen.
Für die Arbeit mit der Datenbank wird keine zusätzliche Software benötigt.
Import vorhandener Sammlungen aus:

Excel (with images presented as links in source file)
CoinsCollector 2.6
Numizmat 2.1 (required Firebird 2.0)
Cabinet 2.2.2.1 (from a export format)
CoinManage 2011, 2013, 2015 (required Visual FoxPro ODBC Driver, Microsoft Access Database Engine, Microsoft Access or any other software with ODBC Microsoft Access Driver)
Collection Studio 3.65 (from a export format XML Table)
Numizmatik_Ru 1.0.0.82
uCoin.net
Tellico

Support languages: English, Russian, German, French, Ukrainian, Spanish, Hungarian, Portuguese, Greek, Czech, Italian, Catalan, Dutch, Bulgarian, Latvian
Cross-platform: Windows, Linux, MacOS and Android. Online viewer for any browser, including mobile (iPhone, Android)
Suitable for other collectibles, like stamps, banknotes, postcards, badges
Download
The latest version: OpenNumismat 1.7.3. Release date: 16 May 2018
Download OpenNumismat 1.7.3 for Windows
Download OpenNumismat 1.7.3 for Debian/Ubuntu
Download OpenNumismat 1.7.3 for Mac OS X 10.8 and later (without Statistics)
History of changes
What's new in OpenNumismat 1.7.3 (16 May 2018)
Fix page navigation in Edit dialog
What's new in OpenNumismat 1.7.2 (04 May 2018)
Add GeoChart
Disabling statuses in settings
New coin status: Missing
Added Latvian
Fix export to Excel on MacOS
Fix processing wrong password
Minor improvements and optimisations
What's new in OpenNumismat 1.7.1 (06 March 2018)
Clickable links in text fields
Colored Status icons
Autobackup
Fix scrolling after editing
BLAF colors for Statistics charts (30 color palette)
Improve detaching reference
Fix backup reference
What's new in OpenNumismat 1.7.0 (19 February 2018)
New fields: Engravers, Colors, Format, Condition, Variety image and description (disabled by default)
Added quick search
Settings for change image height in Table of coins
Settings for showing Image panel at bottom
Settings for default count of images in panel
Refactored Settings dialog. Some settings moved to collection (please, check your settings)
Store Statistics multicolor settings
Enable editing cross reference when not selected main field
Speedup saving records
Fix filter menu without coins
Ältere...
Screenshots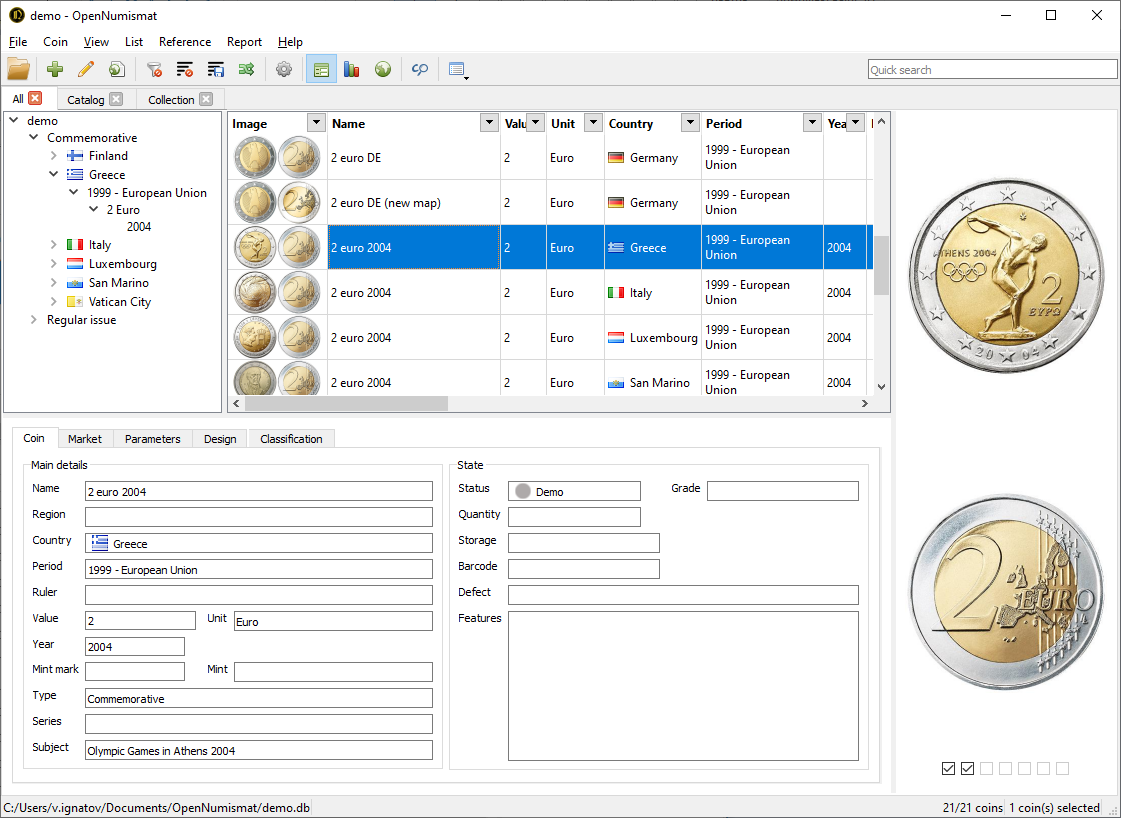 How can I help?
Benutzen Sie OpenNumismat und empfehlen Sie es weiter.
Bitte melden Sie Fehler und neue Funktionen, die OpenNumismat verbessern.
Übersetzen Sie OpenNumismat und die Dokumentation in Ihre Sprache Transifex.
Wenn Sie über Exklusivrechte von Katalogen, Abbildungen oder anderen numismatischen Inhalten verfügen, die in das Programm aufgenommen werden können, wenden Sie sich bitte an den Autor.
With any questions and suggestions you can contact the author: opennumismat@gmail.com
Donation
If you want to thank the author - just send a postcard with typical views of your city or country to:
Ignatov Vitaly Ilich
Do vostrebovaniya
Saint Petersburg, RUSSIA
195027
Details
OpenNumismat ist: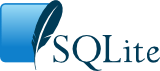 OpenNumismat based on PyQt framework with SQLite database engine to store data collection.
Icons used in UI based on LED Icon Set v1.0, Soft Scraps Icons by deleket and Flag icons.
Alle Abbildungen und Beschreibungen von Münzen in der Demo-Sammlung entstammen folgenden Seiten: Official website of the European Commission, The Central Bank of the Russian Federation website, United States Mint's public information Website und Wikipedia.