OpenNumismat
Description
OpenNumismat ist ein handliches und zuverlässiges Programm für Münzliebhaber - erfahrene Numismatiker oder Neueinsteiger - die das Ziel haben, ihre Sammlung zu dokumentieren.
With OpenNumismat, you will be able to organize and manage coin collection: create an advanced catalogue of your coins, wish and selling lists, view statistics for your collection.
Main features
More than 60 customizable fields to describe the coin:

Eigenschaften der Münze
Zustand und Beschaffenheit der Münze
Ausgabedetails
Daten über Kauf, Verkauf, usw.
Preise und Katalognummern

Up to 7 photos of a coin (insert image from file, clipboard, download from the Web at URL)
Übersichtliches Suchen und Finden von Münzen im Katalog durch die Möglichkeit zu gruppieren, filtern und sortieren.
Generate and print reports, saving as HTML, PDF, MS Word
Export benutzerdefinierter Listen in Form von MS Excel-, HTML- oder CSV-Dateien.
Duplizierung von Münzen, um schnell ähnliche Münzen einzugeben.
Bearbeiten von Münzen im Stapelverfahren.
Statistics
Möglichkeit, benutzerdefinierte Listen zu konfigurieren und zu speichern, um die gewünschten Daten anzuzeigen.
Für die Arbeit mit der Datenbank wird keine zusätzliche Software benötigt.
Import vorhandener Sammlungen aus:

Excel (with images presented as links in source file)
CoinsCollector 2.6
Numizmat 2.1 (required Firebird 2.0)
Cabinet 2.2.2.1 (from a export format)
CoinManage 2011, 2013, 2015 (required Visual FoxPro ODBC Driver, Microsoft Access Database Engine, Microsoft Access or any other software with ODBC Microsoft Access Driver)
Collection Studio 3.65 (from a export format XML Table)
Numizmatik_Ru 1.0.0.82
uCoin.net
Tellico

Support languages: English, Russian, German, French, Ukrainian, Spanish, Hungarian, Portuguese, Greek, Czech, Catalan, Dutch, Bulgarian
Cross-platform: Windows, Linux, MacOS and Android.
Download
The latest version: OpenNumismat 1.6.7. Release date: 15 January 2018
Download OpenNumismat 1.6.7 for Windows
Download OpenNumismat 1.6.7 for Debian/Ubuntu
Download OpenNumismat 1.5.3 for Mac OS X 10.8 and later (latest version not yet ready for Mac OS X)
History of changes
What's new in OpenNumismat 1.6.7 (15 January 2018)
Import from Excel
Import from uCoin.net Microsoft Excel (XLS) format
Improve Tree navigation for empty Value field
Improve storing main window state
What's new in OpenNumismat 1.6.6 (09 January 2018)
Fix sorting denomination in Tree
Fix filling reference from collection
Fix Summary dialog
Improve storing main window size
Improve importing from uCoin.net
What's new in OpenNumismat 1.6.5 (25 December 2017)
Improve sorting for alphabets with extra latin or cyrillic characters
Added new report templates
Market tab always enabled
Fix error msvcr100.dll missing
Fix Summary dialog
Fix license encoding
Fix importing from uCoin.net for Italian
Improve storing Report preview dialog size
Ältere...
Screenshots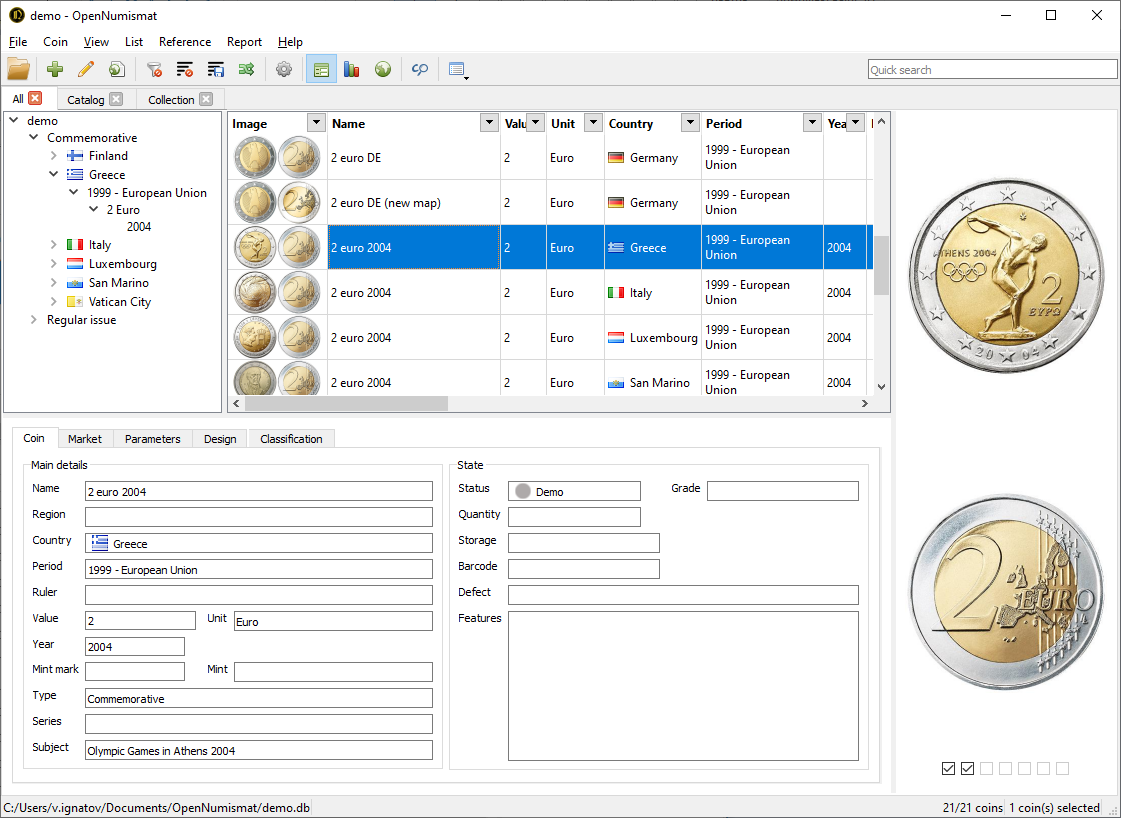 How can I help?
Benutzen Sie OpenNumismat und empfehlen Sie es weiter.
Bitte melden Sie Fehler und neue Funktionen, die OpenNumismat verbessern.
Übersetzen Sie OpenNumismat und die Dokumentation in Ihre Sprache Transifex.
Wenn Sie über Exklusivrechte von Katalogen, Abbildungen oder anderen numismatischen Inhalten verfügen, die in das Programm aufgenommen werden können, wenden Sie sich bitte an den Autor.
With any questions and suggestions you can contact the author: opennumismat@gmail.com
Details
OpenNumismat ist: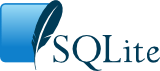 OpenNumismat basiert auf PyQt framework mit SQLite database engine zur Speicherung der Sammlung.
Icons used in UI based on LED Icon Set v1.0, Soft Scraps Icons by deleket and Flag icons.
Alle Abbildungen und Beschreibungen von Münzen in der Demo-Sammlung entstammen folgenden Seiten: Official website of the European Commission, The Central Bank of the Russian Federation website, United States Mint's public information Website und Wikipedia.