OpenNumismat
Description
OpenNumismat est une application pratique et fiable destinée aux amateurs de pièces de monnaie, les numismates ou amateurs qui cherchent à créer une collection numismatique.
With OpenNumismat, you will be able to organize and manage coin collection: create an advanced catalogue of your coins, wish and selling lists, view statistics for your collection.
Screenshots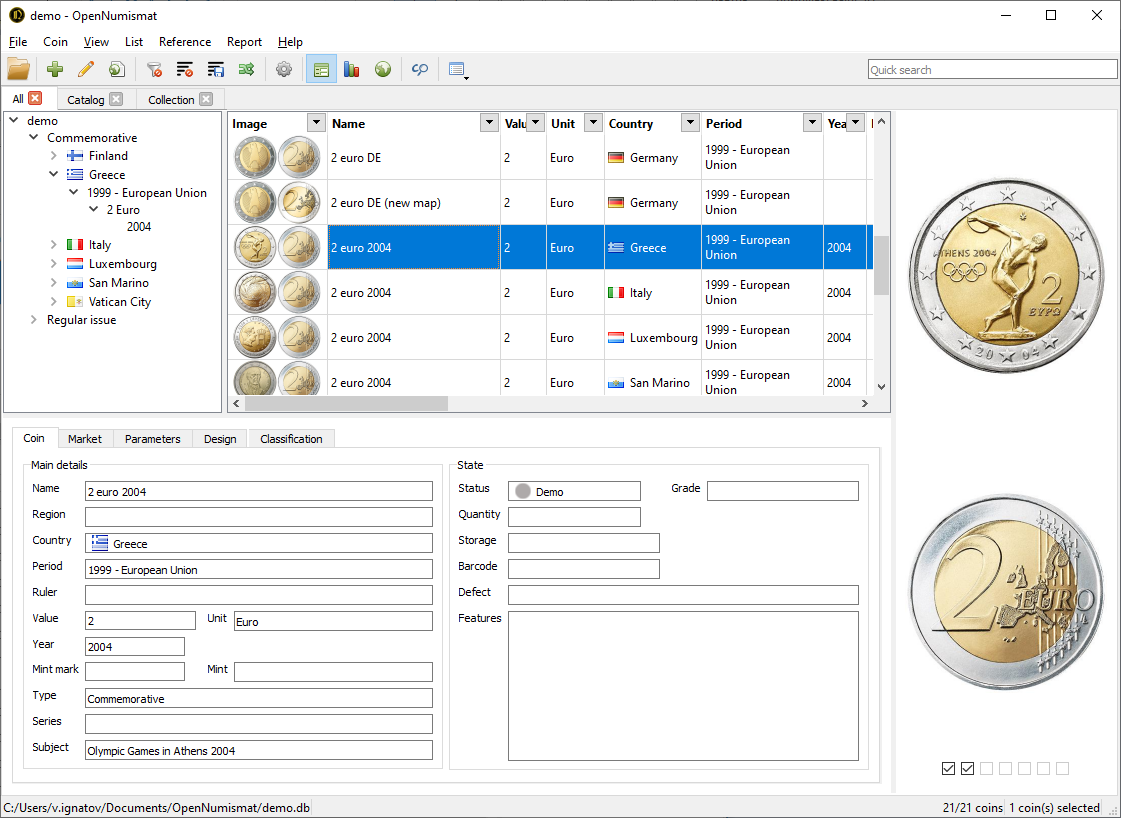 Voir plus de captures d'écran et de vidéos
Main features
More than 80 customizable fields to describe the coin:

Caractéristiques
État de la monnaie
Détails d'émission
Information d'achat, de vente et de transmission au enchère
Prix et numéros de catalogue
Address and point on the map

Up to 11 photos of a coin (insert image from file, clipboard, download from the Web at URL)
Options de regroupement, filtres et de tri pour faciliter la récupération des pièces de monnaie du catalogue
Generate and print reports, saving as HTML, PDF, MS Word
Exportation de listes personnalisées aux formats MS Excel, HTML et CSV
Duplication d'une pièce de monnaie afin d'ajouter rapidement une pièce similaire
Éditer des pièces de monnaie en lot
Built-in image editor
Statistiques
Possibilité d'ajouter et de personnaliser les listes afin d'afficher les données requises
Aucun logiciel additionnel n'est requis pour le fonctionnement de la base de données
Search and import coin, banknote, stamp info from Colnect, an online collectors community
Search and import coin, medal info from ANS collections database
Importation de collections existantes depuis :

Excel (with images presented as links in source file)
CoinManage (required Microsoft Access Database Engine, Microsoft Access or any other software with ODBC Microsoft Access Driver)
Collection Studio 3.65 (depuis le format d'exportation XML Table)
uCoin.net
Tellico

Support languages: English, Russian, German, French, Ukrainian, Spanish, Hungarian, Portuguese, Greek, Czech, Italian, Catalan, Dutch, Bulgarian, Latvian, Swedish, Persian
Cross-platform: Windows, Linux, macOS and Android. OpenNumismat Mobile for any browser, including mobile (iPhone, Android)
Télécharger
The latest version:
OpenNumismat 1.8.20
. Release date:
03 March 2023
Windows
macOS
Linux
Autre(s)
Historique des modifications
What's new in
OpenNumismat 1.8.20

(

03 March 2023

)
Fixed importing from Colnect for countries with large count if series of items
Improved filters on import from Colnect dialog
Fixed processing BC years while importing from Colnect
Don't show countries without items while importing from Colnect
Fixed context menu on image page on macOS
Fixed year calculator for japans dates before 1948
Amazing 1.9 coming soon
What's new in
OpenNumismat 1.8.19

(

27 February 2023

)
Fix Windows x86_64 distributive
Clearing status bar when opening nonexistent collection
What's new in
OpenNumismat 1.8.18

(

27 January 2023

)
Fix Windows x86_64 distributive
Added new template Artemis
Fix Summary dialog on macOS
What's new in
OpenNumismat 1.8.17

(

24 January 2023

)
Change Colnect proxy
Improve parsing fineness for Summary dialog
Show done message for clearing import cache
What's new in
OpenNumismat 1.8.16

(

11 August 2022

)
All references editor has vertical tab bar
Fix Summary dialog on macOS
Removed duplicate menu Report->Statistics
Check that coin title present on save and Check coin duplicates on save settings moved to message box
Show done message when backup completed
Show done message for saving report as pdf
Fix print report to pdf when printer not detected
Fix importing from Numista
Historique antérieur...
How can I help?
Utilisez OpenNumismat et recommandez-le à vos amis
Reporter une erreur et suggérer de nouvelles fonctionnalités afin d'améliorer OpenNumismat.
Translate OpenNumismat and documentation to your own language with Transifex (please start with lang.ts file).
Si vous possédez les droits exclusifs sur les catalogues, photographies ou tout autre contenu numismatique qui peuvent être inclus dans les données d'application, s'il vous plaît, contacter l'auteur.
With any questions and suggestions you can contact the author: opennumismat@gmail.com
Donation
If you want to thank the author - just send a postcard with typical views of your city or country to:
Ignatov Vitaly Ilich
Saint Petersburg, RUSSIA
Novocherkassky, 9, 47
195112
Details
OpenNumismat est conçu avec: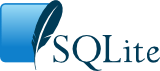 OpenNumismat based on PyQt framework with SQLite database engine to store data collection.
Icons used in UI based on LED Icon Set v1.0, Soft Scraps Icons by deleket and Flag and Silk icons.
Toutes les images et descriptions de pièces de monnaie dans la collection démonstrative proviennent de Site officiel de la commission européenne , The Central Bank of the Russian Federation website, United States Mint's public information Website et Wikipedia.