OpenNumismat
Description
OpenNumismat est une application pratique et fiable destinée aux amateurs de pièces de monnaie, les numismates ou amateurs qui cherchent à créer une collection numismatique.
With OpenNumismat, you will be able to organize and manage coin collection: create an advanced catalogue of your coins, wish and selling lists, view statistics for your collection.
Main features
Description des pièces de monnaie avec plus de 70 champs personnalisables:

Caractéristiques
État de la monnaie
Détails d'émission
Information d'achat, de vente et de transmission au enchère
Prix et numéros de catalogue

Jusqu'à 8 photos par monnaie (inséré depuis un fichier, le presse-papiers ou téléchargé depuis une adresse Web)
Options de regroupement, filtres et de tri pour faciliter la récupération des pièces de monnaie du catalogue
Generate and print reports, saving as HTML, PDF, MS Word
Exportation de listes personnalisées aux formats MS Excel, HTML et CSV
Duplication d'une pièce de monnaie afin d'ajouter rapidement une pièce similaire
Éditer des pièces de monnaie en lot
Statistics
Possibilité d'ajouter et de personnaliser les listes afin d'afficher les données requises
Aucun logiciel additionnel n'est requis pour le fonctionnement de la base de données
Importation de collections existantes depuis :

Excel (with images presented as links in source file)
CoinsCollector 2.6
Numizmat 2.1 (requiert Firebird 2.0)
Cabinet 2.2.2.1 (depuis un format d'exportation)
CoinManage 2011, 2013, 2015 (requiert Visual FoxPro ODBC Driver, Microsoft Access Database Engine, Microsoft Access ou tout autre logiciel avec le pilote ODBC Mircrosoft Access)
Collection Studio 3.65 (depuis le format d'exportation XML Table)
Numizmatik_Ru 1.0.0.82
uCoin.net
Tellico

Support languages: English, Russian, German, French, Ukrainian, Spanish, Hungarian, Portuguese, Greek, Czech, Italian, Catalan, Dutch, Bulgarian, Latvian
Cross-platform: Windows, Linux, MacOS and Android. Online viewer for any browser, including mobile (iPhone, Android)
Suitable for other collectibles, like stamps, banknotes, postcards, badges
Télécharger
The latest version: OpenNumismat 1.7.3. Release date: 16 May 2018
Download OpenNumismat 1.7.3 for Windows
Download OpenNumismat 1.7.3 for Debian/Ubuntu
Download OpenNumismat 1.7.3 for Mac OS X 10.8 and later (without Statistics)
Historique des modifications
What's new in OpenNumismat 1.7.3 (16 May 2018)
Fix page navigation in Edit dialog
What's new in OpenNumismat 1.7.2 (04 May 2018)
Add GeoChart
Disabling statuses in settings
New coin status: Missing
Added Latvian
Fix export to Excel on MacOS
Fix processing wrong password
Minor improvements and optimisations
What's new in OpenNumismat 1.7.1 (06 March 2018)
Clickable links in text fields
Colored Status icons
Autobackup
Fix scrolling after editing
BLAF colors for Statistics charts (30 color palette)
Improve detaching reference
Fix backup reference
What's new in OpenNumismat 1.7.0 (19 February 2018)
New fields: Engravers, Colors, Format, Condition, Variety image and description (disabled by default)
Added quick search
Settings for change image height in Table of coins
Settings for showing Image panel at bottom
Settings for default count of images in panel
Refactored Settings dialog. Some settings moved to collection (please, check your settings)
Store Statistics multicolor settings
Enable editing cross reference when not selected main field
Speedup saving records
Fix filter menu without coins
Historique antérieur...
Screenshots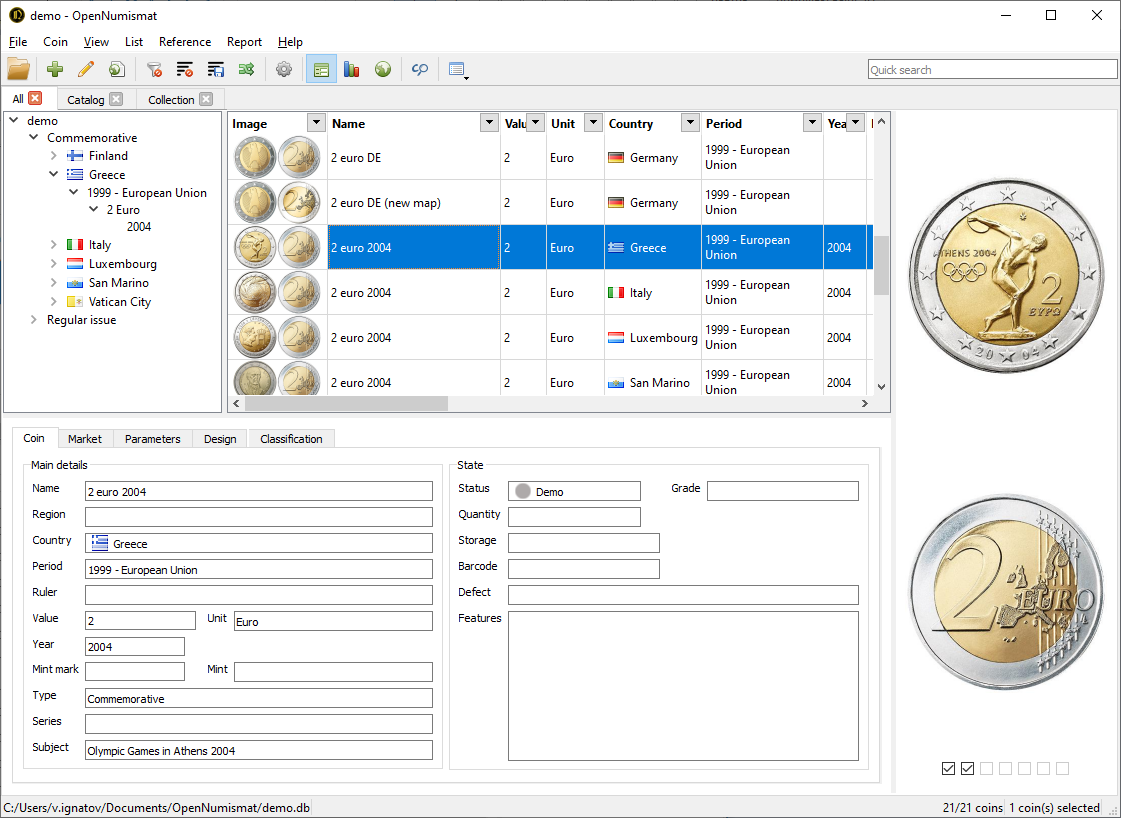 Voir plus de captures d'écran et de vidéos
How can I help?
Utilisez OpenNumismat et recommandez-le à vos amis
Reporter une erreur et suggérer de nouvelles fonctionnalités afin d'améliorer OpenNumismat.
Translate OpenNumismat and documentation to your own language with Transifex.
Si vous possédez les droits exclusifs sur les catalogues, photographies ou tout autre contenu numismatique qui peuvent être inclus dans les données d'application, s'il vous plaît, contacter l'auteur.
With any questions and suggestions you can contact the author: opennumismat@gmail.com
Donation
If you want to thank the author - just send a postcard with typical views of your city or country to:
Ignatov Vitaly Ilich
Do vostrebovaniya
Saint Petersburg, RUSSIA
195027
Details
OpenNumismat est conçu avec: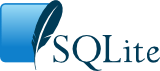 OpenNumismat based on PyQt framework with SQLite database engine to store data collection.
Icons used in UI based on LED Icon Set v1.0, Soft Scraps Icons by deleket and Flag icons.
Toutes les images et descriptions de pièces de monnaie dans la collection démonstrative proviennent de Site officiel de la commission européenne , The Central Bank of the Russian Federation website, United States Mint's public information Website et Wikipedia.