OpenNumismat
Descrizione
OpenNumismat è una pratica e affidabile applicazione destinata agli amanti delle monete, numismatici o dilettanti che cercano di creare una collezione numismatica.
Con OpenNumismat, sarete in grado di organizzare e gestire la vostra collezione di monete: creare un catalogo avanzato delle vostre monete, liste di vendita e di ricerca, vedere le statistiche della vostra collezione.
Caratteristiche principali
Più di 70 campi personalizzabili per descrivere la moneta:

Caratteristiche
Nazione della moneta
Dettagli dell'emissione
Informazioni d'asta su compravendita e scambio
Prezzi e numeri di catalogo

Fino a 8 foto per moneta (inserisci immagine da file, appunti, download da internet)
Raggruppamento, filtraggio e ordinamento per facilitare il ritrovamento delle monete nel catalogo
Creare e stampare resoconti, salvando come HTML, PDF, MS Word
Esportare liste personalizzate come MS Excel, HTML e CSV
Duplicazione di monete per aggiungere rapidamente una moneta simile
Modificare gruppi di monete
Statistiche
Possibilità di aggiungere e personalizzare le liste per visualizzare i dati richiesti
Non richiede software aggiuntivo per funzionare con un database
Importazione di collezioni esistenti da:

Excel (con immagini presentate come collegamenti nel file d'origine)
CoinsCollector 2.6
Numizmat 2.1 (richiesto Firebird 2.0)
Cabinet 2.2.2.1 (da un formato esportato)
CoinManage 2011, 2013, 2015 (richiesti Visual FoxPro ODBC Driver, Microsoft Access Database Engine, Microsoft Access o qualunque altro software con ODBC Microsoft Access Driver)
Collection Studio 3.65 (da una tabella XML esportata)
Numizmatik_Ru 1.0.0.82
uCoin.net
Tellico

Support languages: English, Russian, German, French, Ukrainian, Spanish, Hungarian, Portuguese, Greek, Czech, Italian, Catalan, Dutch, Bulgarian, Latvian
Multipiattaforma: Windows, Linux, Mac OS e Android. Visualizzatore online per qualsiasi browser, compresi i dispositivi mobili (iPhone, Android)
Suitable for other collectibles, like stamps, banknotes, postcards, badges
Scarica
The latest version: OpenNumismat 1.7.3. Release date: 16 May 2018
Download OpenNumismat 1.7.3 for Windows
Download OpenNumismat 1.7.3 for Debian/Ubuntu
Download OpenNumismat 1.7.3 for Mac OS X 10.8 and later (without Statistics)
Cronologia dei cambiamenti
What's new in OpenNumismat 1.7.3 (16 May 2018)
Fix page navigation in Edit dialog
What's new in OpenNumismat 1.7.2 (04 May 2018)
Add GeoChart
Disabling statuses in settings
New coin status: Missing
Added Latvian
Fix export to Excel on MacOS
Fix processing wrong password
Minor improvements and optimisations
What's new in OpenNumismat 1.7.1 (06 March 2018)
Clickable links in text fields
Colored Status icons
Autobackup
Fix scrolling after editing
BLAF colors for Statistics charts (30 color palette)
Improve detaching reference
Fix backup reference
What's new in OpenNumismat 1.7.0 (19 February 2018)
New fields: Engravers, Colors, Format, Condition, Variety image and description (disabled by default)
Added quick search
Settings for change image height in Table of coins
Settings for showing Image panel at bottom
Settings for default count of images in panel
Refactored Settings dialog. Some settings moved to collection (please, check your settings)
Store Statistics multicolor settings
Enable editing cross reference when not selected main field
Speedup saving records
Fix filter menu without coins
Precedente...
Anteprime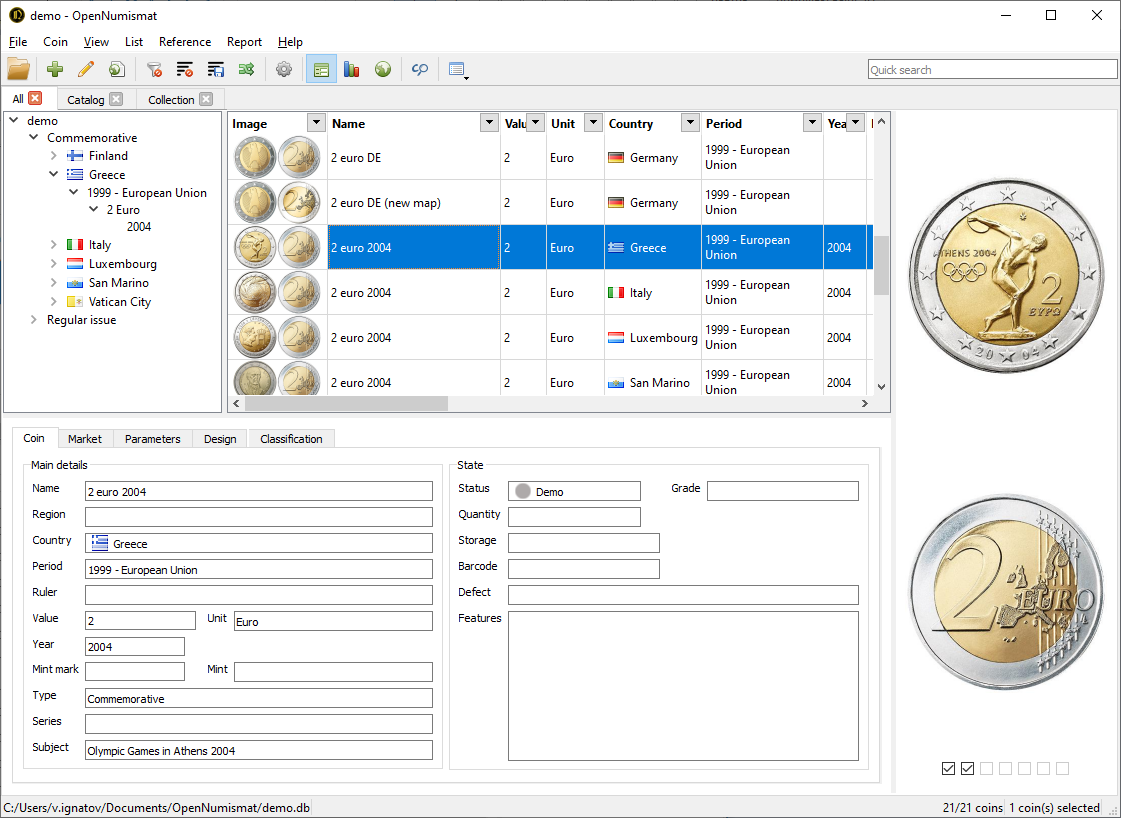 Posso aiutarti?
Usa OpenNumismat e consiglialo ai tuoi amici.
Riporta errori rilevati e nuove funzionalità che renderanno OpenNumismat migliore.
Traduci OpenNumismat e la documentazione nella tua lingua con Transifex.
Se siete proprietari dei diritti esclusivi per i cataloghi, fotografie o altri contenuti di numismatica che possono essere inclusi nei dati dell'applicazione, si prega di contattare l'autore.
Per qualsiasi domanda e suggerimento puoi contattare l'autore: opennumismat@gmail.com
Donation
If you want to thank the author - just send a postcard with typical views of your city or country to:
Ignatov Vitaly Ilich
Do vostrebovaniya
Saint Petersburg, RUSSIA
195027
Dettagli
OpenNumismat è un: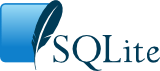 OpenNumismat based on PyQt framework with SQLite database engine to store data collection.
Le icone usate in UI sono basate su LED Icon Set v1.0, Soft Scraps Icons by deleket e Flag icons.
Tutte le immagini e le descrizioni delle monete nella collezione demo provengono da Sito ufficiale della Commissione Europea, sito della Banca Centrale della Federazione Russa, sito di pubblica informazione della Zecca degli Stati Uniti' e Wikipedia.