OpenNumismat
Descrizione
OpenNumismat è una pratica e affidabile applicazione destinata agli amanti delle monete, numismatici o dilettanti che cercano di creare una collezione numismatica.
With OpenNumismat, you will be able to organize and manage coin collection: create an advanced catalogue of your coins, wish and selling lists, view statistics for your collection.
Main features
More than 60 customizable fields to describe the coin:

Caratteristiche
Nazione della moneta
Dettagli dell'emissione
Informazioni d'asta su compravendita e scambio
Prezzi e numeri di catalogo

Up to 7 photos of a coin (insert image from file, clipboard, download from the Web at URL)
Raggruppamento, filtraggio e ordinamento per facilitare il ritrovamento delle monete nel catalogo
Generate and print reports, saving as HTML, PDF, MS Word
Esportare liste personalizzate come MS Excel, HTML e CSV
Duplicazione di monete per aggiungere rapidamente una moneta simile
Modificare gruppi di monete
Statistiche
Possibilità di aggiungere e personalizzare le liste per visualizzare i dati richiesti
Non richiede software aggiuntivo per funzionare con un database
Importazione di collezioni esistenti da:

Excel (with images presented as links in source file)
CoinsCollector 2.6
Numizmat 2.1 (richiesto Firebird 2.0)
Cabinet 2.2.2.1 (da un formato esportato)
CoinManage 2011, 2013, 2015 (richiesti Visual FoxPro ODBC Driver, Microsoft Access Database Engine, Microsoft Access o qualunque altro software con ODBC Microsoft Access Driver)
Collection Studio 3.65 (da una tabella XML esportata)
Numizmatik_Ru 1.0.0.82
uCoin.net
Tellico

Support languages: English, Russian, German, French, Ukrainian, Spanish, Hungarian, Portuguese, Greek, Czech, Catalan, Dutch, Bulgarian
Multi-piattaforma: Windows, Linux, MacOS e Android.
Scarica
The latest version: OpenNumismat 1.6.7. Release date: 15 January 2018
Download OpenNumismat 1.6.7 for Windows
Download OpenNumismat 1.6.7 for Debian/Ubuntu
Download OpenNumismat 1.5.3 for Mac OS X 10.8 and later (latest version not yet ready for Mac OS X)
Cronologia dei cambiamenti
What's new in OpenNumismat 1.6.7 (15 January 2018)
Import from Excel
Import from uCoin.net Microsoft Excel (XLS) format
Improve Tree navigation for empty Value field
Improve storing main window state
What's new in OpenNumismat 1.6.6 (09 January 2018)
Fix sorting denomination in Tree
Fix filling reference from collection
Fix Summary dialog
Improve storing main window size
Improve importing from uCoin.net
What's new in OpenNumismat 1.6.5 (25 December 2017)
Improve sorting for alphabets with extra latin or cyrillic characters
Added new report templates
Market tab always enabled
Fix error msvcr100.dll missing
Fix Summary dialog
Fix license encoding
Fix importing from uCoin.net for Italian
Improve storing Report preview dialog size
Precedente...
Screenshots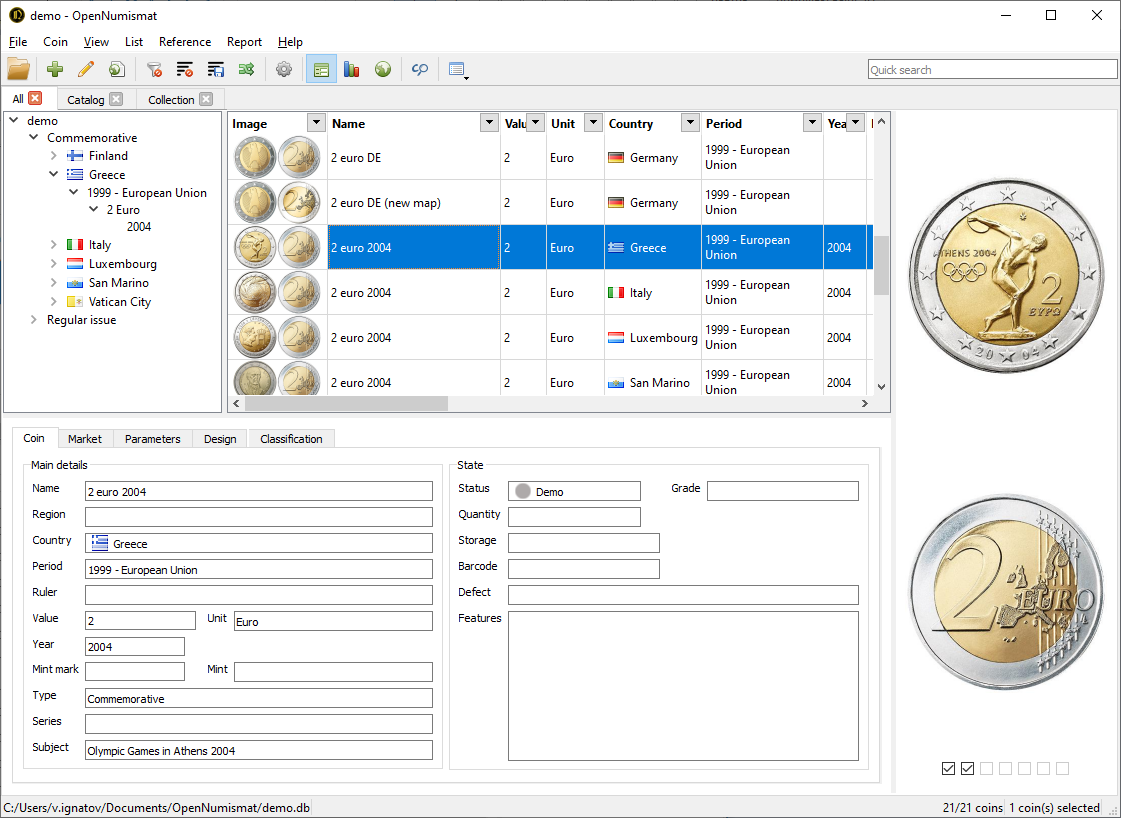 How can I help?
Usa OpenNumismat e consiglialo ai tuoi amici.
Riporta errori rilevati e nuove funzionalità che renderanno OpenNumismat migliore.
Translate OpenNumismat and documentation to your own language with Transifex.
Se siete proprietari dei diritti esclusivi per i cataloghi, fotografie o altri contenuti di numismatica che possono essere inclusi nei dati dell'applicazione, si prega di contattare l'autore.
With any questions and suggestions you can contact the author: opennumismat@gmail.com
Dettagli
OpenNumismat è un: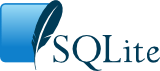 OpenNumismat basato su PyQt framework con SQLite database engine per memorizzare i dati della collezione.
Icons used in UI based on LED Icon Set v1.0, Soft Scraps Icons by deleket and Flag icons.
Tutte le immagini e le descrizioni delle monete nella collezione demo provengono da Sito ufficiale della Commissione Europea, sito della Banca Centrale della Federazione Russa, sito di pubblica informazione della Zecca degli Stati Uniti' e Wikipedia.